In all the news coverage of the latest arrest of American billionaire Jeffrey Epstein on federal sex-trafficking charges, one name keeps coming up with little explanation: Prince Andrew.
Andrew, the Queen's third child, was appointed Britain's Special Representative for International Trade and Investment in 2001 after retiring from the Royal Navy.
He traveled around the world promoting business interests. In 2011 he stepped down from his role as the roving business ambassador amid questions about his judgment in apparently staying close to the convicted pedophile Epstein.
The Guardian newspaper reports that Andrew met Epstein in the 1990's after being introduced by Ghislaine Maxwell, daughter of the late British media mogul Robert Maxwell. She was Epstein's girlfriend and employee at the time and has been implicated in Epstein's alleged trafficking activities as one of his supposed "recruiters."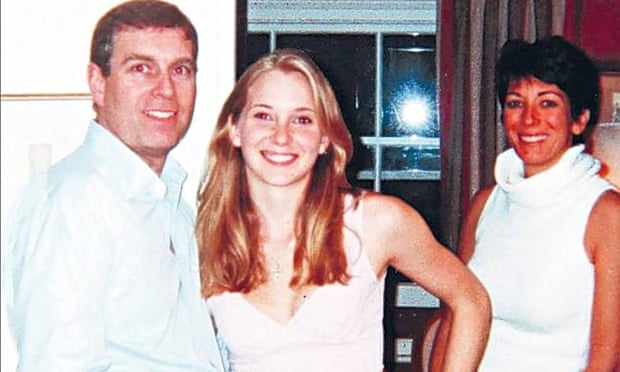 Lawyers dismiss the possibility that Andrew could face criminal charges in the U.S., partly because of the statute of limitations and partly because he likely would have immunity as a foreign royal.
Victoria's Secret and its connection to Epstein
L Brands shares are down 10% this week, to around $25, near the lowest they've been since 2010, after news accounts detailed the decades-old dealings between Epstein and L Brands CEO Les Wexner, the 81-year-old corporate legend who built his family's single clothing store outside Columbus, Ohio, into a global retail empire.
Epstein's New York City mansion, where prosecutors say they found a trove of naked pictures of underage girls last weekend, was once owned by Wexner. He reportedly transferred the home for as little as a dollar to Epstein, his onetime financial adviser.
Epstein has said he started working for Wexner in 1986, a few years after he left a trader job at Wall Street's legendary Bear Stearns. A 2003 Vanity Fair profile of Epstein described him as a "familiar face to many of the Victoria's Secret girls" who had enjoyed had a front row seat at the 2002 Victoria's Secret fashion show.
More trouble for Deutsche Bank
Deutsche Bank's bad week is getting worse. The US government is probing whether the German bank's work with the Malaysia 1MDB scandal violated foreign corruption or anti-money laundering laws, the Wall Street Journal reported.
It came after The New York Times reported that Deutsche Bank managers overruled compliance staff concerns in their dealings with Jeffrey Epstein, who is facing charges of sex trafficking.
The Times reported that compliance officers at Deutsche raised concerns about transactions by Epstein's company, saying he posed a reputational risk to the bank. Deutsche bank managers overruled their concerns, the Times said, noting there was nothing illegal with the transactions and that Epstein was a lucrative client.
Earlier this year, the bank ended its relationship with Epstein. 
Was Epstein blackmailing billionaires?
The question how Epstein made his money have led many financial experts to believe he was engaging in blackmail.
"He somehow cajoled these guys to invest," said a former hedgefund manager Douglas Kass, speaking of hypothetical blackmailed investors who gave Epstein their money to invest, but managed to keep their names private.
The fact that Epstein's fund is offshore in a tax haven — it is based in the U.S. Virgin Islands — and has a secret client list both add credence to the blackmail theory.
If the blackmail theory sounds far-fetched, it's worth keeping in mind that it was also floated by one of Epstein's victims, Virginia Roberts Giuffre. "Epstein … also got girls for Epstein's friends and acquaintances. Epstein specifically told me that the reason for him doing this was so that they would 'owe him,' they would 'be in his pocket,' and he would 'have something on them,'" she said in a court affidavit, according to the investigative series in the Miami Herald that brought the case back to the public's attention late last year.
In the 2015 filing, Giuffre claimed that Epstein "debriefed her" after she was forced into sexual encounters so that he could possess "intimate and potentially embarrassing information" to blackmail friends into parking their money with him. She also said photographic and video evidence existed — an assertion that looms especially large now that federal investigators have found a trove of images in Epstein's home safe.
Latest developments in the case
Attorneys for Jeffrey Epstein asked a Manhattan federal judge Thursday to allow the financier to await trial on sex trafficking and conspiracy charges from the comforts and confines of his own home, offering up his multi-million dollar Manhattan mansion and his private jet as collateral in a bail package worth up to $77 million.
His lawyers said Epstein has been "a law-abiding citizen" following his 2008 guilty plea to state-level prostitution charges.
Prosecutors said at a court hearing on Monday they will oppose Epstein's release on bail, saying he poses "extraordinary risk of flight" because of his wealth, private planes and significant international ties.
The New York Times reports that U.S. District Judge Richard M. Berman, who will preside over Epstein's cases, refused a similar bail proposal by attorneys for a defendant in 2016 money-laundering case, saying it was "unreasonable because it helps to foster inequity and unequal treatment in favor of a very small cohort of criminal defendants who are extremely wealthy."