JonBenét Ramsey was an American child beauty queen. The daughter of affluent parents, JonBenét was only six years old when she was murdered in her Boulder, Colorado, residence on December 26, 1996. Her murder, which is still unsolved, became one of the decade's most famous police investigations.
Mysterious Death
On the morning of December 26, 1996, Patsy called the police after finding a three-page ransom note demanding $118,000 for her daughter's safe return. The girl's body, however, was discovered in the basement later that afternoon.
JonBenét had a fracture to her skull, she had been sexually assaulted and she was strangled with a garrote made from one of Patsy's paintbrushes. According to the coroner's report, JonBenét's official cause of death was "asphyxia by strangulation associated with craniocerebral trauma" and her death was classified as a homicide.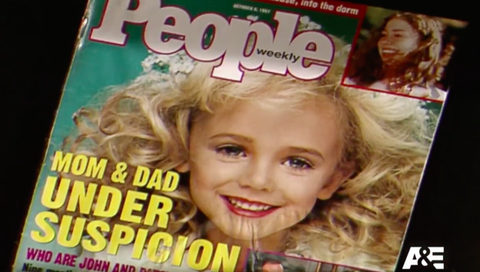 In the subsequent years, no major leads were made, although the Ramseys became the main suspects.
Much of the public viewed the parents as guilty after hearing about evidence that did not paint them in the most innocent light: John and Patsy gave inconsistent stories, their media appearances made them appear culpable, the cryptic ransom note was discovered to be written on paper found at their house and fiber retrieved from the duct tape that bound JonBenét's body matched the same fiber on Patsy's clothes.
In 2016, JonBenét's brother Burke made a surprising appearance on The Dr. Phil Show, breaking his 20-year silence about the case but bringing no new evidence to the story.
Many who tuned in to watch the three-part interview were quick to notice his rather perplexing, almost happy demeanour.
While reliving some of the gruesome details of his sister's murder, Burke was smiling throughout most of the sit-down — including when he spoke of her funeral.
The main suspect
A longtime suspect in the JonBenét Ramsey case, has allegedly confessed to "accidentally" killing the six-year-old in a series of letters sent to a former high school classmate, according to the Daily Mail.
Gary Oliva, 54, is a convicted pedophile currently serving a 10-year sentence in Colorado for possession of child pornography, but is up for parole in 2020.
"I never loved anyone like I did JonBenét and yet I let her slip and her head bashed in half and I watched her die," Oliva wrote in a letter to his former classmate, Michael Vail. "It was an accident. Please believe me. She was not like the other kids."
In another letter to Vail, Oliva wrote, "JonBenét completely changed me and removed all evil from me. Just one look at her beautiful face, her glowing beautiful skin, and her divine God-body, I realized I was wrong to kill other kids. Yet by accident she died and it was my fault."
Back in 1996, Oliva was a registered sex offender whose listed address was not far from the Ramsey home, and he reportedly attended a candlelight vigil shortly after JonBenét's murder. But despite receiving several tips from Vail, Boulder Police didn't consider Oliva a suspect until 2000.
The CBS documentary
The 2017 CBS documentary, meant to coincide with the 20th anniversary of JonBenét's death, featured forensic pathologists advocating that Burke accidentally killed his sister, despite prosecutors previously clearing the Ramsey family of any involvement.
"The accusation that Burke Ramsey killed his sister was based on a compilation of lies, half-truths, manufactured information, and the intentional omission and avoidance of truthful information about the murder of JonBenét Ramsey," lawyers for Ramsey stated in a 2016 filing.
Watch the CBS documentary